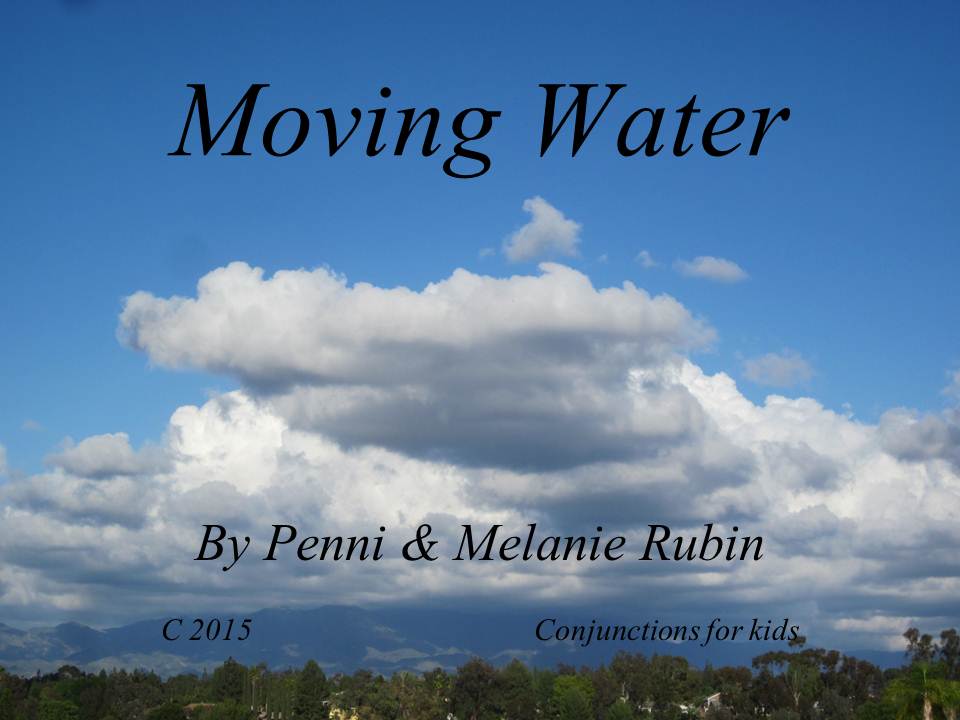 Moving Water is a fun book that talks about how California needs water and Massachusetts has too much. Aimed at young readers ages 5 to 7 years old, it suggests silly ways to get the snow/ice/water from the East Coast to the West Coast. The underlying lesson is about conjunctions. Authors Penni and Melanie Rubin are seeking submissions of drawings from children for the pages. The most expressive and colorful ones will be chosen for inclusion.
The text on the 23 pages is as follows (copyrighted text 2015):
Teacher- "We are going to share weather stories today. Does anyone have something of interest to say?"
"My Aunt's roof in Boston has 7 feet of snow piled high. She sent a picture of her shoveling it as it fell from the sky!
"My Grandma is sad because there is a drought in California and her flower garden isn't doing well. She bragged about her roses being big as grapefruits, but not anymore. There's not enough rainfall."
US map page- Teacher, "Let's think of ways we can help!"
From the East, great big fans could blow the clouds outright. Traveling west o'er the mountains that might take up half the night.
The Army has neat cargo planes which can load up lots of snow. In mid-air they could open the hatch and on mountains it would go.
Use lots of plastic bags full of ice chips and put them in some boats. Our iceberg barges can carry the water because all they do is float.
Chugging down the silver tracks with loads and loads of ice. Train cars will bring some melted water. Now wouldn't that nice?
We could use helicopters dropping water on the fires. It takes lots of gas and small amounts and everyone perspires.
Shiny trucks with gasoline could instead be filled with rain. They'd travel the highways and the streets, then dump it down the drain.
In dinghies, canoes, or kayaks in yachts or even sails, they'll float the snow across the land and we hope they do not fail.
We could send some hot air balloons real high & hope they don't totter. Then in California they can make it rain using all that precious water.
We build a pipeline with our Legos and melt the snow from Boston's roofs. We'll pour the stuff into funnels but that's not really foolproof.
Lunchboxes or purses, could carry water bottles just like in my lunch. But now that I'm thinking, it's way too many; it would take a bunch.
A caravan of camels can carry water in their humps. But they better be very careful and watch out for lumpy speed bumps.
Elephants traveling trunk to tail could carry lots of snow. The trail that they follow will lead them where the water needs to go.
Across the desert, packs of donkeys and many mules could roam. They could bring the water on their backs to California homes.
Grab your boots and mukluks, in two lines the mushers would be ready. A dozen dogs pulling sleds of snow would be slow but really steady.
Wild horses galloping like the wind could bring the sleet out West. So saddle your stallion, giddy up, and do your very best.
Let the fish drink lots of water and swim it down rivers and lakes. They are pretty used to cold water and can do it, for goodness sake.
Blowing bubbles, we'll watch them fly all the way from the East coast. To settle and pop in the creeks and streams, now that would be the most!
We could gather hands across the land -- people stand side by side in overalls. And passing from East to West, they would...
...toss well-packed snowballs!
TEACHERS/PARENTS: Read the text to the class and let the children pick the page they want to illustrate.

Rules of the contest:
1. Each crayon drawing should be on an 8x11 1/2 piece of white paper. Horizontal/landscape drawings only.
2. Children in Kindergarten through 4th grade may enter.
3. One entry per person. There is no entry fee.
4. Drawings will become the property of Penni Rubin Publishing
5. Deadline: Postmark no later than June 1, 2016
6. Do not fold the drawing. Mail it in large envelope. NO FOLDED ARTWORK WILL Be ACCEPTED
7. Drawings will be judged on how well they fit the text content and on expressiveness and artistic flare.
8. Please attach a piece of paper to the back of the entry with the following information: Name, Age, Grade, Teacher/Parent, School, Contact email address. Also reference the page number being drawn.
9. Mail to: Penni Rubin 5070 Avenida del Sol, Laguna Woods, CA 92637


Winners will be notified by email by November 30, 2015
---
Other books by Penni Rubin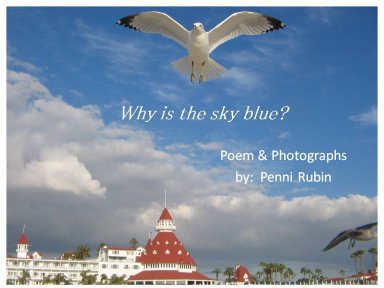 Why is the Sky Blue? teaches cloud identification and we have heard many stories that the kids who have heard the book out loud join in on the chorus with gusto. The perfect answer to an age-old question when a child's curiosity about the world begins to blossom. Combines Rubin's stunning photos of sunsets and skies with the science of cloud identification. Great experience for children, great information for adults. Available in paperback and Kindle from Amazon.