Mini WONDERlabs
 Science : Art : Math : Integrated Programs : Projects : Activities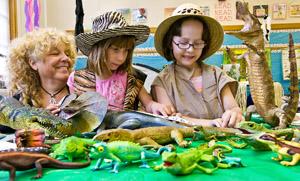 Developed for Kdg. thru Primary Grades - Cleveland Ohio Vicinity  by Penni Rubin
EDUCATORS : You do not have to leave your classroom, this field trip comes to you. It's a one hour program with all the artifacts, tools, games, lab coats and art projects, etc. to help your students get excited about Science, Art and Math  $100 per class
DETECTIVE SERIES (LIFE SCIENCE)
Animals (large & small)

Zoology

See a variety of insects, amphibians, reptiles, primates & mammals (nothing live) and the children will be fascinated learning how to measure and weigh lizards, fake snakes and others.  They will be classifying and comparing different "life styles" of the land and sea creatures becoming detectives and sleuths (with sloths and interesting stuff).           

PreK & Primary

 
 
 

Under the Sea

Oceanography

Shark attack! This oceanography class is for the fearless student. Examine real sharks teeth, weigh whales, draw fish and make a rubbed coral reef.  Wonderful array of mammal models- whales, seals & dolphins. Plus: see real bottom dwellers w/outside skeletons- shells, urchins, starfish, & sand dollars. Great to compare & do radial art projects.  

PreK & Primary

 
 

Bones & Hard Parts 

Skeletons

Learn about your bones &  animal skeletons- dig for fascinating finds with variety of animal backbones, teeth, skulls & a few exoskeletons. Play a discovery game with  unusual artifacts & try to figure out what is inside. Clip boards ready, get set & go!

PreK & Primary


 




 

 
 

What Bugs Ya'?  (insects, etc.)   

 Insect World

Children can see real and lifelike specimens, for sorting & counting. They will create bugs & see how they see. Fascinating puzzles and symmetrical butterfly art projects await those who are curious. 

PreK & Primary

 We Dig Science (plants & seeds)      

Botany

Botany (trees, leaves, seeds & pods): learn plant parts answer questions- What parts do we eat? How do seeds get sewn in the wild, and find out more about the rainforest, and the variety of things people do with plants. 

PreK & Primary

 




 
WIZARD SERIES (PHYSICAL SCIENCE)
Sound Off Science-musical instrument making

Sound Theory

Find out about vibration & sound, learning how to make musical instruments. Look at and play many hand made instruments from other countries. See how people have created music throughout history & cultures using the  ethnomusicology theory. (This was an award winning exhibit Penni created for the Children's Museum.)   

PreK & Primary

Roller Coaster Physics

Physics

Children get to observe physical motion & manipulate balls to see cause & effect, momentum, inertia, centripetal forces at work. (ask about "Roller Coaster Physics" a great large group assembly for families in a gym)  

PreK - Elementary    

 
 

Building Blocks

Engineering

Building & construction, variety of methods- from stonework to "I" beams & bricks, see ancient techniques (like the pyramids) and learn about strength of materials, balance & structures. We will have some contests to see which teams can build the strongest structure, or move heavy weights                                  

 

PreK - Elementary    

 

We Stick Together-magnets & gizmos

Magnetism & Machines

Interactive simple machines & systems for movement with many hands-on materials. Learn about attractiveness/repelling evidence, gears, balancing acts, levers, axels, etc. 

 

PreK - Elementary    

 

Light & Reflection

Light & Color Theory

Color, Light & Reflection: mix colors with paint & light, create mirror art & do reflective writing w/optical illusions thrown in too. A darkened room is needed for this lab.  

A "Mirror Mirror" show (developed at the Children's Museum by Penni) is also a great fun family night or assembly.

 

Primary

 

Kitchen Chemistry

Chemistry

Observe how to mix soaps, liquids, powders, adhesives. Use tools like a mortar & pestle, magnify substances & see what they really look like. We might make silly putty or even some sidewalk chalk. 

Elementary

Bubbl-i-fic (Air & Water, wet and wild)

Water/Air

With a huge variety of tools, see how to create bubbles large and small, pulling and blowing the soapy liquid to create domes, etc. Ever see a square bubble or a triangle? Wait and learn! See how air and water make liquids move- work with pumps, siphons and eye droppers. (This was developed for the Children's Museum & has been done around many educational facilities in the Cleveland area.) Outside is best!

PreK & Primary

 

 

 
 EXPLORERS SERIES (EARTH SCIENCE)
The Forces - quakes, volcanoes, plates, etc.   

Geology

Discover the many rocks and minerals we have as resources on our planet. Find out about the forces in nature- quakes, plate tectonics, volcanoes, along with finding your birthstone & see a volcano model with a lava game.  (Penni co-wrote & developed "What's Under Your Feet?" for the U.S. Geological Society.)

Elementary

 

 

Dinosaurs & the Fossil Record

Paleontology

Dino-Math & more, find out how scientists figure out things that are extinct. Kids will  match, sort, classify & measure using this most favorite childhood theme, (2 legs or 4, plant or meat eaters), and play the fossil game - "plant, animal or mineral." Children will learn by comparing with a wonderful variety of examples from an extensive fossil collection. (Penni developed many of these activities while working at the Cleveland Museum of Natural History) 

 

PreK & Primary

 

 
 

The Rainforest & Different Habitats

You do not have to leave your backyard to be in a Rainforest. We will be touching everything from bugs to plants,  measuring and weighing models of animals, seeing a turtle shell in pieces parts, witnessing the metamorphosis of frogs & butterflies, classifying primates and checking out the big cats while discovering their habits and habitats. Working in different mediums in art the students will see what's up (or down) in other environments to become more globally aware. 

PreK & Primary

 

Peoples & Cultures

Cultural Arts & Archeology

Learn about other cultures through their art and products, like musical instruments and see a doll collection with costumes from around the world. Use a map to find out where these artifacts come from and see the world. Learn about natural & man-made artifacts & go on a dig. Plus: we will do plenty of  cultural art projects.  From  Africa, Hispanic, The Orient, India, Aboriginal and Native American art.

 

PreK - Elementary    

 
| | |
| --- | --- |
| Students: | "I never knew science was so much fun." I'm learning that science isn't boring!" |
| Teachers: | "We explored & saw things we may never see or touch again in our lives" |
|   | "It's fabulous, Penni can get into the skin of kids." |
|   | "Penni hides the learning in the fun! Guaranteed!" |
|   | "My class came alive with amazing questions!" |
*WONDERlabs are complete classroom environments that need an empty classroom for several weeks. This takes 1 1/2 weeks to set up and every class in the school can come and explore at their given discovery time.
Suitcase Science are artifacts and projects brought into individual classrooms performed as mini labs. Each have the S.A.M. components (science art and math).
 ABOUT PENNI RUBIN
Penni Rubin: BA. in ECED, master teacher since 1970. Developed her own enrichment centers and was on staff of the English Nanny & Governess School. Temporary faculty member of the Univ. of Texas at Arlington for the DOD's  CAETI computer initiative program. Penni is author & illustrator  of many books. ("Mommy I Have Nothing To DO Book,  Science in the Sandbox, Math in Motion, What's Under Your Feet?" for the USGS).  She was an Educational Supervisor for Cleveland Children's Museum, where she designed exhibits. She was the Party Coordinator  at the Cleveland Museum Natural History for 5 years doing educational birthday parties. She is a popular lecturer and teacher trainer in Creativity in the Classroom, using her Project S.A.M. (integrating science art and math/music) into the school curriculum geared especially for preschool & primary  students. Rubin is also a singer and song writer, and recently she wrote a musical play with her sister Dr. Thea Iberall, for kids. "At Seven" follows Penni's research that we find our vocational interests at the age of 7. This production was performed in the Toledo Schools for the past 2 years. Her latest "Rainforest " WONDERlab* exhibition was well received by Carol Nursery & Early Childhood Enrichment Center in Shaker Hts.  
She has completed many other WONDERlabs for Solon, Orange, and several Cleve. Hts. Elementary Schools. 
                        ( *See photo above from the Sun Press 8/7/08.)
| | | | |
| --- | --- | --- | --- |
| ART & MATH | EARTH SCIENCE | PHYSICAL SCIENCE | LIFE SCIENCE |
Suitcase Science
WONDERlab
designed for Cleveland & Suburban schools